—to offer Guyana's IT market a range of digital signage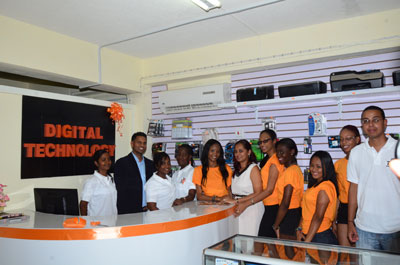 DIGITAL Technology (DT) has launched its new location at 74 Brickdam, Georgetown under the theme 'Completely redesigned, new features, new solutions, new location packed with surprises'.Speaking at the launch, CEO Mr. Terrence Sukhu said, "DT has grown to be one of the premier technology-based companies in Guyana; and over the past 10 years, the company has actively promoted localisation and multicultural integration among all."
Declaring that DT has formed strategic partnerships with some of the most renowned IT solutions manufacturers around the world, and has recently added LG Electronics to its list, Sukhu said this partnership would offer Guyana a range of digital signage to its IT market.
President of the Georgetown Chamber of Commerce & Industry, Mr Clinton Urling, had this to say during the launch, "It is the determination and steadfast resilience of the private sector which is responsible for most of our country's development, and the bold investment of Digital Technology continues to showcase this.
"It is the appeal of the GCCI for our country to accelerate the pace of ICT development and also effect legislation to strengthen and broaden the scope of the ICT sector; and we also have to ensure the gratis of the telecommunications sector."
Digital Technology established its first location in 2003, and has since evolved into a solutions provider of information. The company offers full after-sales services on all items, especially computer repairs and upgrades and UPS repairs and servicing; and is on a mission to keep customers informed about its products and how to remedy any problems.
(By Rebecca Ganesh-Ally)