DIGITAL Technology Incorporated, a computer sales and solutions provider, last Saturday at its newly built headquarters located in Diamond, East Bank Demerara, contributed an undisclosed sum of cash to young Niron Bissu to assist with offsetting his expenses in his quest to bring Guyana regional honours.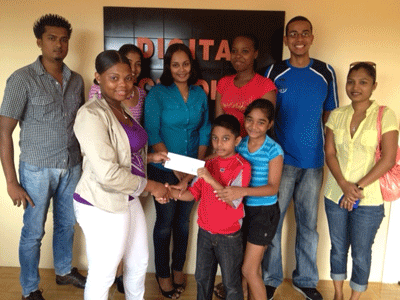 Bissu, a young table tennis champion and part of 'Generation Next' for Guyana's table tennis will be part of the national 10-years-and-under national cadet team representing Guyana at the Caribbean Cadet Table Tennis Championships scheduled for July 19 to 26 in Jamaica.
He was selected along with Jeremy Singh, Khalil Ninvalle and Tyriq Saunders in the Boys 10 years and under category.
The Guyana Table Tennis Association's (GTTA) Assistant General Secretary, Linden Johnson, said that the Association has selected 16 of its youngest, talented, disciplined and brightest prospects to represent the country at the championships.
He expressed his gratitude on behalf of the GTTA to the sponsors for supporting the GTTA, outlining that sponsorship was truly critical to enabling the players to gain much needed exposure. He took the opportunity to ask other sponsors to consider the request for sponsorship for Guyana's cadet team
Chief Financial Officer of Digital Technology, Subrina Sukhu, wished young Bissu and the Guyana team selected for this engagement every success in their quest for glory.
She said her company has been supporting sport athletes and community programmes to fulfil their programmes and on this occasion they were happy to support young Niron, since the company views this as an investment in Guyana's future
The players have been involved in intense training under the tutelage of a panel of coaches, including Johnson – the national coach – Colin France, Mooniram Persaud and Idi Lewis.